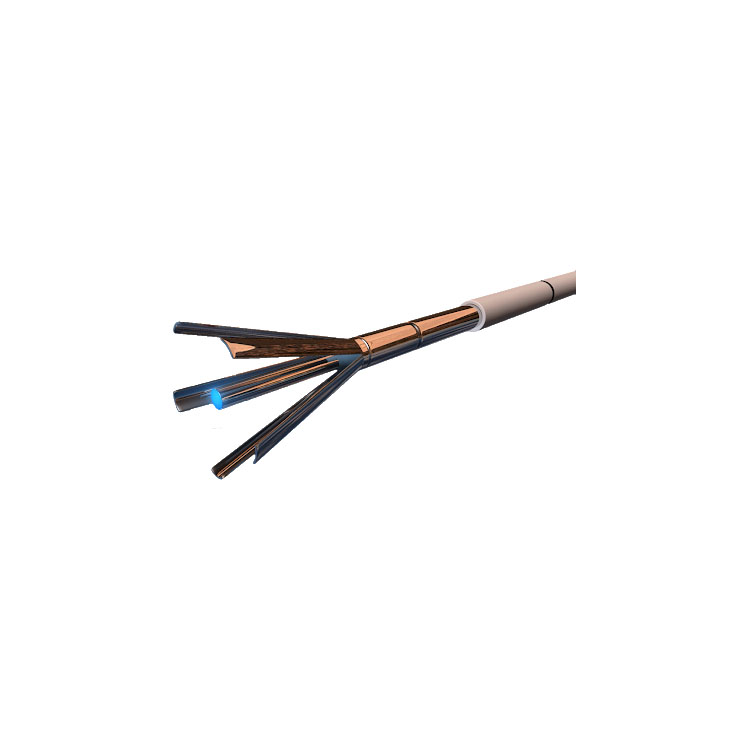 Tulip-Tip fiber
Naast het gebruik van bare-tip fibers en radiaal fibers, kunt u er ook voor kiezen om te werken met onze Tulip-Tip fiber.
De voordelen van deze Tulip-Tip fiber:
– geeft aantoonbaar minder postoperatieve klachten
– eenvoudig en veilig in gebruik
– economische verantwoord
– de onderdelen zijn ook los verkrijgbaar
Eén van de risico's bij het gebruik van bare-tip fibers kan een vaatwandperforatie zijn, wat weer kan resulteren in ecchymose en postoperatieve pijnklachten.
Om deze perforatie te voorkomen hebben we de Tulip-Tip fiber ontwikkeld.
De Tulip-Tip fiber wordt geleverd met bijbehorende katheter (70cm., inclusief markeringen), voerdraad en punctienaald.
Deze fiber heeft zich inmiddels al bewezen in de praktijk en ook is er een prospectief, gerandomiseerd onderzoek uitgevoerd. De resultaten* van dit onderzoek, waarbij 87 patiënten met de Tulip-Tip fiber en 87 patiënten met de bare-tip fiber behandeld werden, zijn als volgt: na vijf dagen was er een pijnscore van 1 bij de Tulip-Tip fiber versus een pijnscore van 2 bij de bare-tip fiber.
Verder werd er bij de Tulip-Tip fiber 4x minder ecchymose gezien.
De 1-jaars occlusie lag bij beide fibers rond de 98%
*Endovenous Laser Ablation of the Great Saphenous Vein Using a Bare Fibre versus a Tulip Fibre: A Randomised Clinical Trial (M.E. Vuylsteke et al.
Eur J Vasc Endovasc Surg. 2012 Oct 16)
Wilt u meer informatie ontvangen?