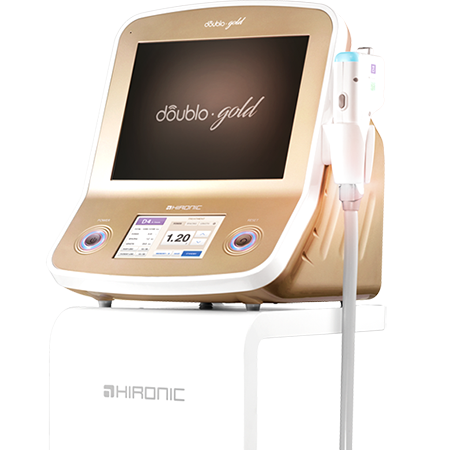 Hironic Doublo Gold
HIFU: High Intensity Focused Ultrasound
De gouden standaard voor het liften van de huid en verminderen van rimpels op een non-invasieve manier.

Lees hier meer over de Hironic Doublo-Gold (HIFU)
Offerte aanvragen [/button-blauw]
Hironic ontwikkelt en produceert sinds 2011 HIFU toestellen. De Doublo Gold is inmiddels de 3de generatie op de markt. Met meer dan 3000 geïnstalleerde systemen is Hironic een van de grootste en meeste ervaren leveranciers van HIFU systemen.
Hifu staat voor High Intensity Focused Ultrasound en is een unieke behandeling op basis van ultrasound om de huid te verstrakken op een non-invasieve manier.  Er wordt energie in de verschillende lagen van de huid gebracht om zo de collageen aanmaak te versnellen. Zo zijn we in staat om de huid op een natuurlijke manier te liften en verstevigen. Het is een niet-chirurgische methode, waarbij het huidoppervlak onbeschadigd blijft. Door de activatie van de kop in beide richtingen is de Doublo Gold razendsnel (hoogste snelheid van alle HIFU systemen), tot 300 shots in 8 minuten.
De Doublo Gold wordt geleverd met 4 koppen, voor een werkingsdiepte van 1,5mm tot 13mm.
Indicaties:
* Kaaklijnen
* Nasolabiaalplooien (plooien tussen neus en mondhoeken)
* Oogleden
* Wenkbrauwen
* Dubbele kin
* Verslapping van de huid aan de hals
* Fijne lijntjes en rimpels
* Ongelijkmatige teint of textuur van de huid
* Grote poriën
* Verstrakken van buik en bovenarmen
Aantal behandelingen
Er worden gemiddeld 1-3 behandelingen aangeraden met een pauze van 2-3 maanden. Daarna 1 keer per jaar om het resultaat te behouden.
Behandeling en resultaat
De behandeling kan wat warm aanvoelen en soms ervaart men het gevoel van een lichte prik of tinteling. Dit gevoel is echter kortstondig en verdwijnt meteen na de behandeling. De behandeling wordt over het algemeen als goed verdraagbaar ervaren door de patiënt. Het resultaat van de HIFU is na 3-6 maanden zichtbaar. In deze periode zal het collageen aannemelijk toenemen met als resultaat een voller en strakker gelaat.
De duur van de behandeling hangt af van de zone die u wilt behandelen, aangezien HIFU lifting een snelle behandelmethode is, kunt u in een korte tijd veel zones behandelen. Een kleine zone duurt ongeveer 30 minuten, een volledige lifting van gelaat en hals ongeveer 1u30min.
Contra-indicaties
HIFU lifting is niet geschikt voor mensen tijdens zwangerschap of bij stollingsstoornissen, immuunsysteem stoornissen, hart- lever- en nierinsufficiëntie, allergieën, serieuze hartritmestoornissen of fillers in de zone die u behandeld wilt hebben.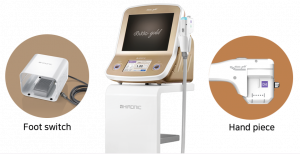 Wilt u meer informatie ontvangen?