Quanta System Duetto MT EVO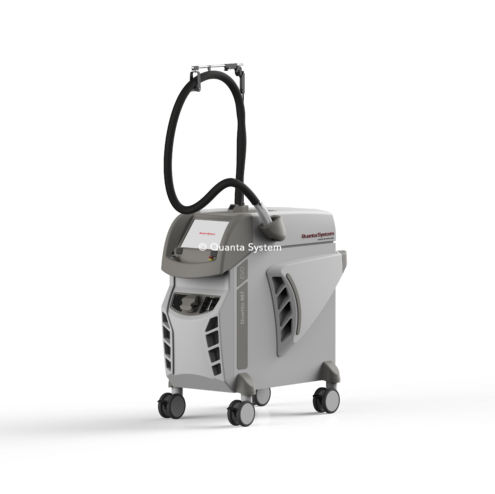 Quanta System Duetto MT EVO
Effectief en veilig behandelen, dat kan met de populaire Duetto MT EVO.
De twee gouden standaarden, Alexandrite 755nm en Nd:YAG 1064nm bieden u een totaaloplossing voor de meest gevraagde (esthetische) indicaties zoals ontharen, vasculaire laesies en hyperpigmentatie.
Lees hier meer informatie over de Duetto MT EVO
Een vernieuwd en groter interface, vier zwenkwielen, alle kabels netjes weggewerkt, een verbeterde arm: slechts een paar van de in het oog springende verbeteringen. Ook intern is er veel aan de laser verbeterd om langdurig en optimaal gebruik te kunnen maken van uw Duetto MT EVO.
De Duetto MT EVO beschikt over twee laserbronnen:
– de Alexandrite 755nm laser is de gouden standaard voor ontharen van huidtypes I tot III en benigne hyperpigmentatie behandeling.
– de Nd:YAG 1064nm laser is bij ontharing uitermate geschikt voor huidtypes IV-VI en voor vasculaire behandelingen.
Naast dat deze laserbronnen los van elkaar gebruikt kunnen worden, is het ook mogelijk om beide golflengtes te combineren. Dit kan sequentieel, waarbij de pulsen achtereenvolgend worden gegeven, of simultaan, waarbij beide golflengtes tegelijkertijd worden afgegeven.
Deze Mixed Technology lasertechniek is aanmerkelijk minder pijnlijk bij het ontharen en bij vasculaire behandelingen dan tot dusver gebruikte lasertechnieken. Omdat per golflengte lagere fluences gebruikt worden, is ook de kans op complicaties lager.
Lastige indicaties, zoals ontharen bij een donkere huid of rugbeharing en het behandelen van beenvaatjes, worden vergemakkelijkt door het combineren van deze golflengtes.
Met een spotgrootte van maximaal 18mm zijn ook ruggen en benen vlot te behandelen. De maximale repetition rate van 10Hz op de Nd:YAG en Alexandrite maken in-motion ontharen en huidverbetering mogelijk.
Dit alles maakt de Duetto MT EVO één van de meest geavanceerde en flexibele lasers voor ontharen, vasculaire behandelingen en huidverjonging.
De Duetto MT EVO is uit te breiden met:
– Twain IPL handstuk
– Twain 2940 (Er:YAG) handstuk
Wilt u meer informatie ontvangen?