Quanta System Youlaser Series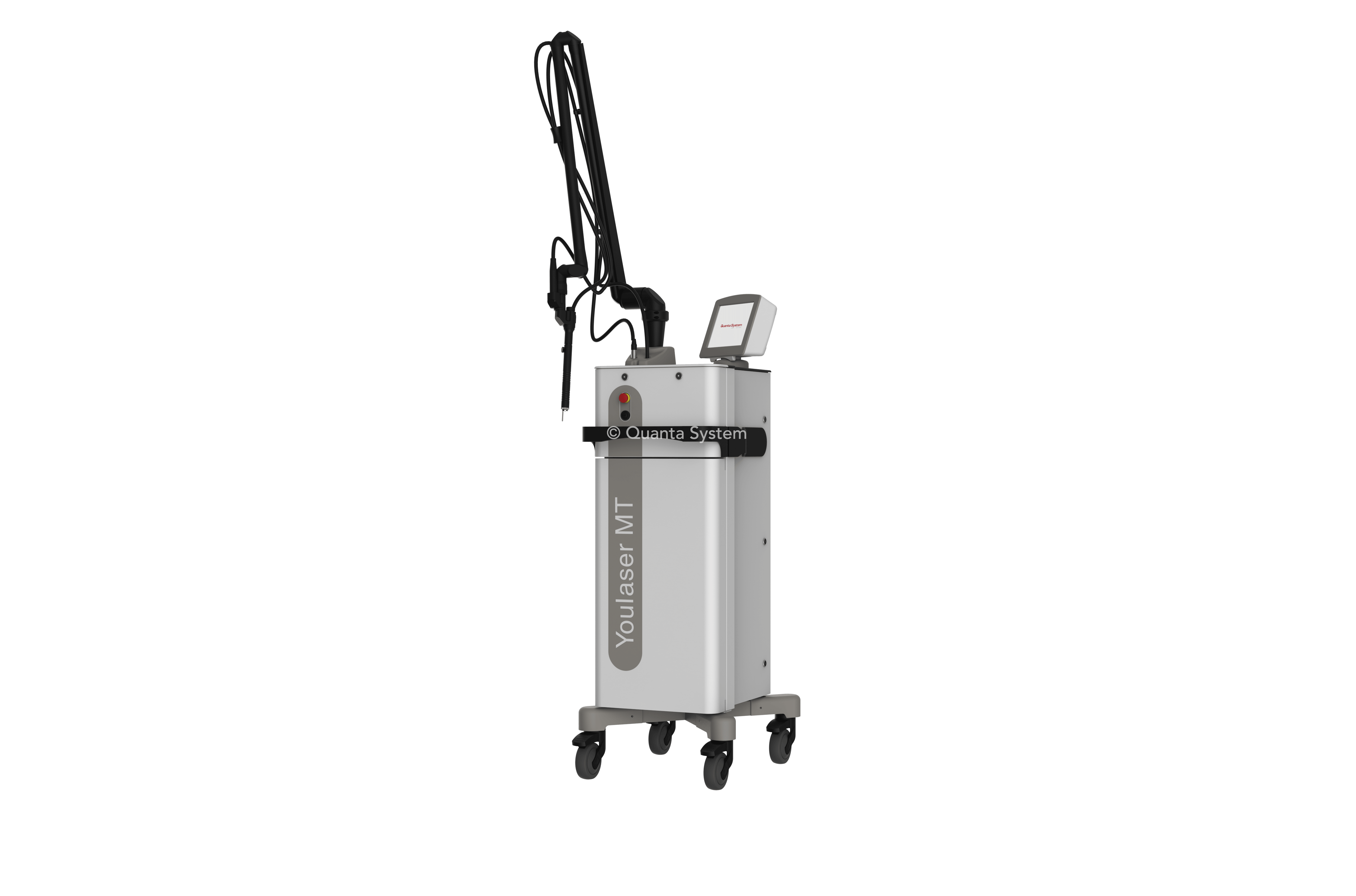 Quanta System Youlaser MT
De Youlaser MT is de eerste en unieke laser die in staat is twee golflengtes te combineren: een ablatieve CO2 10600nm laser en de niet-ablatieve GaAs 1540nm laser.
Deze onderhoudsvrije laser biedt een diversiteit aan behandelingen op het gebied van huidverjonging /-verbetering,  chirurgische en gynaecologische indicaties.
Lees hier meer over de Youlaser serie
Tegenwoordig kennen behandelaars de voordelen en de grenzen van ablatieve en niet-ablatieve fractionele lasers goed. Ablatieve lasers geven snellere resultaten maar zijn niet geschikt voor alle cliënten vanwege de langere hersteltijd en het hogere risico op gepigmenteerde aandoeningen.
Non-ablatieve lasers worden door ieder huidtype goed getolereerd maar er zijn meerdere sessies nodig om het gewenste resultaat te bereiken. De Youlaser MT is de eerste, unieke laser die deze grenzen overschrijdt door het combineren van beide lasers: de golflengtes kunnen afzonderlijk of in een exclusieve Mixed Modaliteit ingezet worden om de beste behandelkeuze voor alle cliënten te geven. Dit maakt het een veelzijdige laser, welke inzetbaar is voor een breed scala aan huidindicaties.
De Youlaser MT is een zeer effectieve laser en stelt de behandelaar in staat om de juiste balans van resultaten en hersteltijd te vinden.
De zeer snelle CO2-buis van de Youlaser MT is in staat om tot 2000Hz te pulsen en pulsduur van microseconde pulsen te leveren. Dit geeft een perfecte controle voor het snijden en coaguleren. Youlaser MT is een "onderhoudsvrije" laser, een belangrijk kenmerk om kosten op het laagste niveau te houden.
SheLase
Meer dan 45% van vrouwen van middelbare leeftijd kampt met klachten zoals  atrofie van de vagina en/of vulva. Een grote groep patiënten voor wie een oplossing beschikbaar is.
Voor klachten zoals vaginale droogheid, verslapte vaginawand en vulva, jeuk, pijn tijdens gemeenschap en incontinentie, is het nieuwste handstuk Shelase dé uitkomst! Shelase is de perfecte aanvulling op de al tot ons assortiment behorende Youlaser MT.
Shelase werkt door middel van Mixed Technology, waarbij de golflengtes 1540nm en 10600nm worden gecombineerd. Dit vormt zo een unieke behandeling van de vagina met zowel ablatieve als niet-ablatieve golflengten. Door middel van verschillende probes heeft u de mogelijkheid om zowel de binnen- als de buitenkant van de vagina te behandelen.
De endo-vaginale probes stralen de laserenergie 360 graden rondom uit. De unieke combinatie van de ablatieve en niet-ablatieve golflengtes, zorgt voor een optimale behandeling met maximaal comfort, geen bloedingen en geen hersteltijd. De 1540nm niet-ablatieve laser, dringt diep door in de mucosa voor collageenstimulatie. De ablatieve CO2 laser zorgt voor regeneratie en verstrakking van het weefsel.
Shelase vs. andere lasers
Andere lasers op de markt voor vaginale behandelingen, gebruiken alleen de ablatieve golflengte. Om het collageen te stimuleren is minstens de werking van de 1540nm nodig. De collageenstimulatie van een CO2 laser alleen is aanzienlijk minder effectief. Het combineren van beide golflengten, wat mogelijk is bij de Shelase, stimuleert juist de dieper gelegen lagen, wat een beter resultaat met zich meebrengt.
De Shelase voordelen:
Vaginale en vulva behandelingen
Gecombineerde golflengten voor een beter resultaat met een grote tevredenheid van uw patiënten
Gecombineerde golflengten waardoor mogelijke complicaties tot een minimum worden beperkt
Zeer rendabele behandeling
Nieuwe doelgroep met groot aantal mogelijke patiënten. In de US, meer dan 50% van de 64 miljoen post-menopauzale vrouwen kampt met vaginale veranderingen*.
* US Census, 2010   ** National Institutes of Health 2011
Wilt u meer informatie ontvangen?